NOW Foods, Magnesium Citrate, 120 Veg Capsules
NOW Foods, Magnesium Citrate, 120 Veg Capsules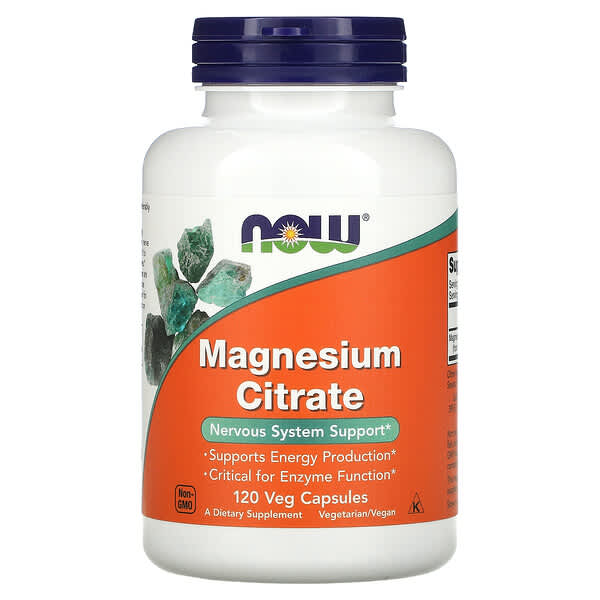 NOW Foods Magnesium Citrate is a dietary supplement that claims to support healthy muscle and nerve function, as well as promote relaxation and restful sleep. In this review, we will look at the product's ingredients, benefits, potential side effects, and customer feedback.
Ingredients: Each serving of NOW Foods Magnesium Citrate contains 400mg of Magnesium (from Magnesium Citrate). Other ingredients include cellulose, stearic acid (vegetable source), and magnesium stearate (vegetable source).
Benefits: Magnesium is an essential mineral that plays a crucial role in over 300 enzymatic reactions in the body. It helps regulate muscle and nerve function, blood sugar levels, and blood pressure, and is necessary for the production of DNA, RNA, and proteins. Magnesium also aids in the absorption of other nutrients like calcium and potassium, and may help alleviate anxiety, depression, and insomnia.
NOW Foods Magnesium Citrate claims to be a highly bioavailable form of magnesium that is easily absorbed by the body. It is also vegan, gluten-free, and non-GMO.
Potential Side Effects: While magnesium is generally considered safe, excessive intake can cause gastrointestinal issues like diarrhea, nausea, and cramping. Individuals with kidney disease should consult their healthcare provider before taking magnesium supplements.
Customer Feedback: Customers who have tried NOW Foods Magnesium Citrate report positive experiences with the product. Many have noticed improved sleep quality, reduced anxiety and stress, and relief from muscle cramps and spasms. Some have also noted improved digestion and regularity.
Conclusion: NOW Foods Magnesium Citrate Veg Capsules are a high-quality, affordable dietary supplement that provides a bioavailable form of magnesium. The product has numerous benefits, including support for healthy muscle and nerve function, relaxation, and restful sleep. While excessive intake may cause gastrointestinal issues, most customers report positive experiences with the product.
Sources: